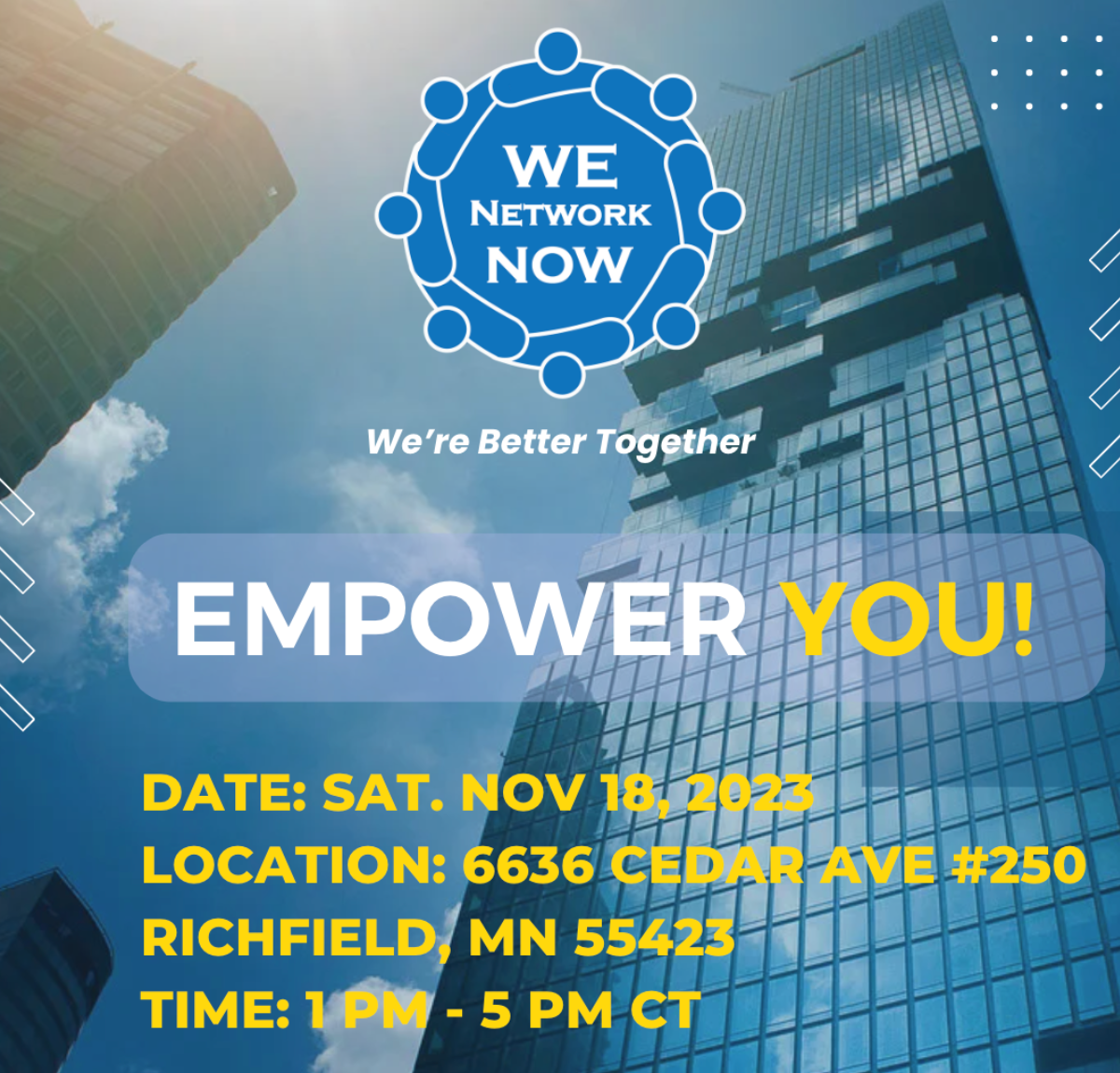 Empower You!
Join us for an incredible opportunity to connect, learn, and grow at the WeNetworkNow Annual
Welcome to our groundbreaking event, "Navigating the Unspoken Rules of Corporate America: Strategies to Get Ahead from the Perspective of a Minority Professional." In today's rapidly evolving corporate landscape, it's crucial to understand the hidden dynamics and unwritten codes that can significantly impact your career. This event is dedicated to empowering minority professionals with the tools and insights they need to excel and thrive.
Event Overview
Navigating the Unspoken Rules of Corporate America: We delve into the unique challenges faced by minority professionals and explore effective strategies for career advancement. This event is not just a discussion; it's a transformative experience that combines expert insights, personal anecdotes, and interactive discussions.
What to Expect
Diverse Panel of Experts: Our event features an impressive lineup of accomplished professionals who have successfully navigated the corporate world as minorities. They will share their experiences, offer actionable advice, and provide valuable insights.
Knowledge Sharing: Discover the secrets and strategies to excel in your career, whether you're just starting out or looking to take your career to the next level.
Workshops
Build a Personal Brand for Success: Learn how to craft a personal brand that sets you apart and makes a lasting impact in your career.
Cultural Competence: Thriving in Diverse Workplaces: Explore the skills and attitudes that will empower you to thrive in today's diverse work environments.
Networking Opportunities: Connect with like-minded individuals, expand your professional network, and build relationships that can open doors in your career.
Interactive Q&A: Get answers to your burning questions during our interactive Q&A sessions. Our experts are here to address your concerns.
Giveaways and Prizes: Attendees have a chance to win exciting prizes and exclusive resources to help you on your journey.
Who Should Attend?
This event is open to everyone, but it's specifically designed for everyone – from entry-level employees to mid-level managers and executives. Feel free to share the event with your network!
Join the Conversation
Follow us on social media to stay updated on event details, speaker announcements, and exciting giveaways. Use the hashtag #EmpowerYou, #NavigatingCorporateAmerica to join the conversation and share your thoughts.
LinkedIn: WeNetworkNow
X (Formely known as X): @Wenetworknow
Facebook: Wenetworknow
Instagram: WeNetworkNow
Don't miss this opportunity to gain the knowledge and insights you need to thrive in the corporate world. Register today and take the first step towards a brighter, more successful future.
Secure your spot now!
Join us for this informative and inspiring event. We look forward to having you with us to explore the path to success in the corporate world as a minority professional.
Please reach out to us at info@wenetwork.org for more details!